Kontinuitäten?
Joseph Haydn und Johannes Brahms
The latest exhibition at Brahms-Institut at Musikhochschule Lübeck is dedicated to two key artist personalities from the eighteenth and nineteenth century: Joseph Haydn (1732–1809) and Johannes Brahms (1833–1897). Entitled »Kontinuitäten?« (»Continuities?«), the exhibition directs our attention at Brahms' reception of Haydn. Presenting letters, prints, programs, busts, and photographs, the show spotlights Brahms' engagement with »Father Haydn«, who played a key role in establishing the genres symphony, string quartet, and piano sonatas.
The focus is placed on the well-known Haydn Variations for Orchestra or for two Pianos that Brahms based on a theme that was falsely attributed to Haydn. He was introduced to the theme by Carl Ferdinand Pohl, the archivist at Gesellschaft der Musik­freun­de in Wien, to whom another display case is also dedicated. Pohl, who was working on an extensive Haydn biography, collected all copies that were passed on under haydn's name and allowed Brahms access to them.
After Haydn's death in 1809, his fame as one the most renowned composers in Europe quickly began to fade. This exhibition documents the enthusiasm that Brahms and his violinist friend Joseph Joachim who worked to promote the works of the now mildly ridiculed »Papa Haydn« already in their youth, playing together as chamber musicians. They continued later in their careers, Brahms as a conductor and Joachim with his quartet, founded in 1879, who passionately played the string quartets of the First Viennese School, Haydn, Mozart, and Beethoven, often in combination with those by Brahms.
With a view on the SHMF conference »Kontinuitäten? – Joseph Haydn im Wandel der Interpretationen«, the exhibition also focuses on the Haydn year 1909, which was celebrated in Vienna as a large-scale centennial, and inspired six prominent French composers, including Claude Debussy and Maurice Ravel, to compose works paying tribute to the classical master.
Title:
Kontinuitäten?
Joseph Haydn und Johannes Brahms
Initial Opening:
01.07.2016
Conception:
Prof. Dr. Wolfgang Sandberger,
Stefan Weymar M. A.
In Cooperation with:
Schleswig-Holstein Musik-Festival |
>>Info
Lenders:
Gesellschaft der Musikfreunde in Wien. Archiv, Bibliothek und Sammlungen |
>>Info
Prof. Dr. Volker Scherliess, Lübeck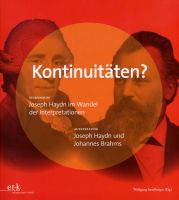 Der Katalog ist erhältlich bei: