Friends' Association
Verein zur Förderung des Brahms-Instituts Lübeck e. V.
The Brahms-Institut's Förderverein (Friends' Association) was founded in 1992. The membership includes academics, musicians, and music lovers from Germany and abroad. The chairman of the association is Heiko Hoffmann, a former minister of justice in Schleswig-Holstein.
The funds made available from membership fees and donations are used primarily to purchase music scores, engraving templates, letters and photographs.
Become a member and help support the work of the Brahms-Institut!
The minimum membership fee is 30 € annually.
If you have any questions, please contact Birgitt Rehbock.
Contact
Verein zur Förderung des Brahms-Instituts e. V.
c/o Brahms-Institut an der Musikhochschule Lübeck
Birgitt Rehbock
Jerusalemsberg 4
D-23568 Lübeck
Tel. 0451/1505-414
foerderverein.brahms-institut@mh-luebeck.de
Bank information

Verein zur Förderung des Brahms-Instituts e. V.
Sparkasse zu Lübeck
IBAN: DE80 2305 0101 0001 0172 76
SWIFT/ BIC: NOLADE21SPL

Association number

Registergericht Lübeck (VR 1935 HL)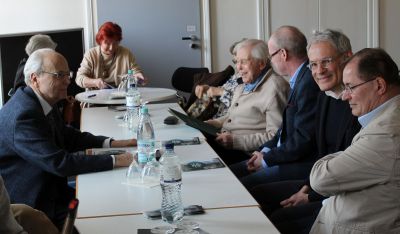 Sitzung des Fördervereins

© Birgitt Rehbock

Satzung des Fördervereins
(154.70 KB) | © Förderverein