Konfrontationen
Johannes Brahms und Frankreich
The Franco-Prussian War from 1870/71 reinforced the idea of an »ancestral enmity« between the two neighboring countries. France was humiliated by the crowning of the German emperor in Versailles' Hall of Mirrors as well as the triumphant Victory Parade on March 1, 1871 down the Champs-Élysées. Brahms' Triumphlied op. 55 is, in his own words, one of his »political thoughts regarding the year's events«.
But the relationship of the Hamburg born composer to France and French musical culture is much more complex, as revealed for the first time by the exhibits at »Konfrontationen – Brahms und Frankreich« (»Confrontations: Brahms and France«).
The »profoundly German« Brahms marveled at the work of Chopin, who chose France as his home. His adaptation of Chopin's Etude op. 25, No. 2 is presented as a manuscript. This manuscript, as well as many others, comes from the collection of Gesellschaft der Musikfreunde in Wien, with whom this exhibition was realized in close cooperation.
Brahms, who never composed an opera, was also a great fan of Carmen by Georges Bizet, »a great favourite of mine.« As early as December 1853, the young Brahms met Hector Berlioz in Leipzig. Among the treasures at Brahms' later library, there is a manuscript and the instrumentation treatise by the French composer Berlioz and the monumental biography Hector Berlioz by Adolphe Jullien from the year 1888.
Conversely, concert programs and French editions of Brahms works like his famous Lullaby as Berceuse show the wide reception of works by the German composer in France. French colleagues like César Franck or Charles-Marie Widor took Brahms as a point of reference in their own composing, as shown by the manuscript dedications of works and accompanying letters.
Title:
Konfrontationen
Johannes Brahms und Frankreich
Initial Opening:
30.06.2017
Conception:
Prof. Dr. Wolfgang Sandberger,
Stefan Weymar M. A.
In Cooperation with:
Schleswig-Holstein Musik-Festival |
>>Info
Lenders:
Gesellschaft der Musikfreunde in Wien. Archiv, Bibliothek und Sammlungen |
>>Info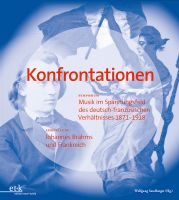 Der Katalog ist erhältlich bei: