Christoph Arta M. A.
Volunteer / Doctoral Student
Telefon: +49 (0)451 - 1505-417
E-Mail: christoph.arta@mh-luebeck.de
Christoph Jannis Arta has studied musicology and English linguistics at the University of Zurich. His seminar thesis »The Organ in the St. Johanniskirche in Lüneburg in the Hanseatic Context« has been awarded a semester prize by the University of Zurich in 2019. From 2018 to 2020, he has worked as a trainee in the dramaturgy department of the Tonhalle-Gesellschaft Zürich, and, in late 2020, he was a student assistant for the archival indexing of the Gottfried Wagner Archive in the music department of the Zentralbibliothek Zürich.
Since January 2021, Christoph Arta is an intern at the Brahms-Institut within the framework of the »Lübecker Modell« at Zentrum für Kulturwissenschaftliche Forschung Lübeck (ZKFL) and is writing his doctoral thesis on Joseph Joachim with Prof. Dr. Wolfgang Sandberger.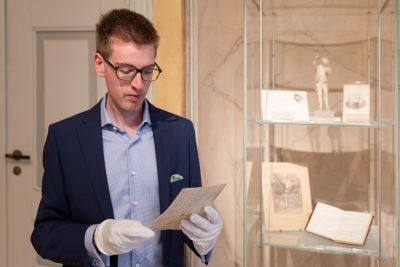 Christoph Arta

© Markus Bomholt