Stefan Weymar M. A.
Music Librarian / Exhibition Curator
Telefon: +49 (0)451 - 1505-402
E-Mail: stefan.weymar@mh-luebeck.de
Stefan Weymar, born in Bad Kreuznach, studied horn and piano at Cologne's Musikhochschule, then turning to library studies with an additional specialization as a music librarian in Stuttgart (completing a degree in 1990) and finally pursuing a master's degree in musicology and art history at Tübingen's Eberhard-Karls-Universität (completed in 1997).
Since 1999, he has been working as music librarian and museum curator at the Brahms-Institut at Musikhochschule Lübeck. Beside the library and the collection, he manages exhibitions and events as museum guide and host. He plays a key role in planning new exhibitions and editing the catalogues.
He is very passionate about Scandinavian music. As an accomplished pianist himself, in 2007, he recorded a CD together with the Icelandic singer S. Vilbergsdóttir (Svartálfadans, DEMATON Musikproduktionen, Lübeck) with Icelandic songs from the nineteenth and twentieth centuries.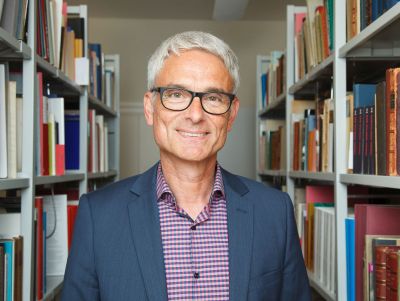 Stefan Weymar

© Ruvolo (2018)