Dr. Fabian Bergener
Research Associate / Librarian
Telefon: +49 (0)451 - 1505-419
E-Mail: fabian.bergener@mh-luebeck.de
Fabian Bergener, born in Lübeck, pursued his master's degree in musicology, art history, and English studies at Christian-Albrechts-Universität in Kiel and received his doctorate in 2010 with a dissertation entitled »Die Ouvertüren Robert Schumanns«.
From 2006 bis 2012, he worked as a researcher at the Brahms-Institut at Musikhochschule Lübeck and during this period of time participated in compiling the Brahms-Briefwechsel-Verzeichnis (BBV). From 2012 to 2014, he completed training as a librarian at Berlin's Staatsbibliothek zu Berlin – Preußischer Kulturbesitz and at Bibliotheksakademie Bayern, Bayerische Staatsbibliothek. From 2014 bis 2016, he participated in the framework of a project funded by Land Schleswig-Holstein on the cataloguing of the letters of Theodor Kirchner for their digital presentation. He then began preparing the partial estate of Joseph Joachim for purposes of digitization, a project that was funded by the HERMANN REEMTSMA STIFTUNG as part of the funding program Kunst auf Lager (Art in Storage).
Since March 2018 he has been working on a digital data bank for all the collections at the Brahms-Institut in a project funded by the state government of Schleswig-Holstein.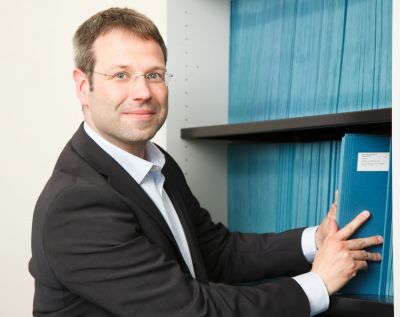 Fabian Bergener

© Ruvolo (2018)